Italian Saints and New Rulers: Carolingian Expansion and the Hagiographical Responses Compared
Investigator: Giorgia Vocino
The take-over of Northern Italy by Charlemagne in 774 triggered a wave of saints' Lives written in urban communities. This new hagiography fuelled the competition between episcopal centres and bolstered the prestige of bishops who had to renegotiate their position viz. the new ruler. The favourite models of sanctity were local bishops and martyrs from the early centuries of Christianity. In areas of Carolingian expansion north of the Alps, such as Saxony and Bavaria, different models of sanctity prevailed: monks and women played a key role, and new cults evolved around saints from the more recent past. These were different responses to the same challenge: a new regime with an explicitly religious authority, and a king/emperor for whom the cult of the saints ensured the stability of the state – also in conquered territory.
In this project I will focus on hagiography and the competition between episcopal centres in Northern Italy (774-887), compared to models of sanctity in other areas of the expanding Carolingian realm. I will compare the ways in which these texts were instrumental in legitimating local and regional leadership, responding to a changed political context.
---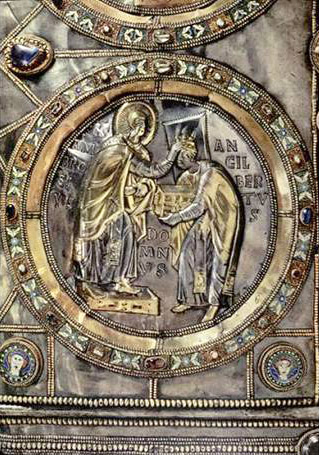 St Ambrose crowning Archbishop Angilbert II (824-859), Golden Altar of Sant'Ambrogio (mid-9th century), Milan.
llustration: Geometrie Fluide